GRIFFIN STRING INSTRUMENT (KimGriffinGuitars.com)
At
GRIFFIN STRING INSTRUMENT
luthier Kim T Griffin custom hand crafts steel string Acoustic Guitars, Mandolins, Classical Guitars, Banjos, Hammered Dulcimers, and other string instruments. Design the instrument along with the luthier as a one of a kind work of art, a valuable heirloom for generations.
GRIFFIN STRING INSTRUMENT
Also offers Repair and Restoration of string instruments.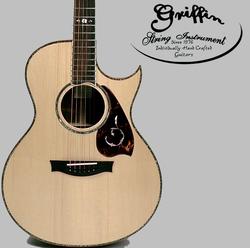 Griffin String Instrument is listed in
The Blue Book Of Acoustic Guitars
and
The Official Vintage Guitar Price Guide.
Email: griffin.guitars@juno.com
"I am personally committed to putting the guitar of a lifetime into your hands."
Kim T Griffin Luthier (string instrument maker) Since 1976